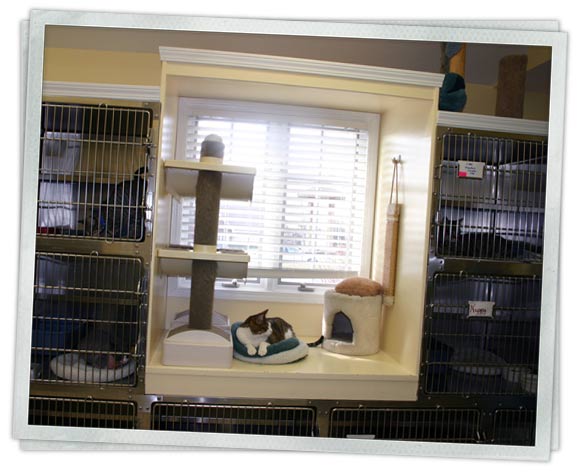 Dog Boarding
Our dog boarding facility is maintained by a team of individuals whose top priority is to provide your dog with a clean, stress-free, and comfortable place to stay when apart from your family and away from home. We walk every dog on a leash, three times a day, in our grassy exercise area: this provides fresh air and a chance to go to the bathroom.  We feed Hill's Science Diet Canine Maintenance dry dog food each morning and evening.  We provide canned food also if a dog isn't eating appropriately. For a small additional fee, we are happy to provide your dog with any special diet or medication that you leave with us. We do recommend reservations for our boarding facility, especially around holidays and vacation times – space fills up quickly.
Cat Boarding
Our cat boarding facility is a bright, sunny place with a large window for catching a few rays of sun.  Each cat has an individual cage with a resting bench, cat bed, litter box, as well as food and water bowls.  Twice a day, while we are cleaning your cat's cage, your cat gets a chance to stretch its legs and see what is going on outside the window.  We feed Hill's Science Diet Feline Maintenance dry cat food each morning and evening. We add a touch of canned food to the bowl of any cat that is not eating well. If your cat prefers a special diet or requires medication, please provide these items to be given during it's stay with us.  There is an additional charge for this service.
Policies and Procedures
To maintain a healthy and clean environment, we require documentation that all pets are current on their vaccinations and free of intestinal parasites, fleas and ticks. Any pets requiring vaccinations or other veterinary care will be treated at the owner's expense. We admit and discharge boarding dogs and cats during normal business hours Monday through Saturday. We offer Sunday release of boarding pets from 4 to 6 p.m. by prior arrangement. There is an additional charge for Sunday release of boarding pets. We offer bathing services, at a discounted price to our boarders, to be given the day they are scheduled to go home. This ensures they are clean and smell great when they rejoin their families.
Although rarely needed, please provide an emergency telephone number where we can reach you. If any concerns arise involving your pet, we will make every effort to contact you so that your pet may receive any additional care needed.